Support our work today
Please consider supporting this podcast and all our work to fix our relationship with electronics.
This summer, we asked Restart Radio listeners to share their thoughts on our podcast.
Around 2.6% of you who listen monthly took our radio survey and we'd like to say a huge thanks to you! Hearing from our listeners for the first time has been fascinating and we'll take on your comments. While we would have liked to hear from even more people (send us feedback any time!), this response still gives us a good picture of who the most engaged listeners are and what they would like to change.
Who listens to Restart Radio and how?
Over the past year, we've had about 1,200 monthly listens consistently, which apparently is decent for indie podcasting scene in the UK. But we were curious to learn more about our audience, so we asked a few questions to help us understand who our listeners are.
Where are listeners based?
Perhaps unsurprisingly for an English-language podcast, over 80% of listeners are based in English-speaking countries, with two thirds in the UK and nearly 16% split between Australia, Canada and the USA.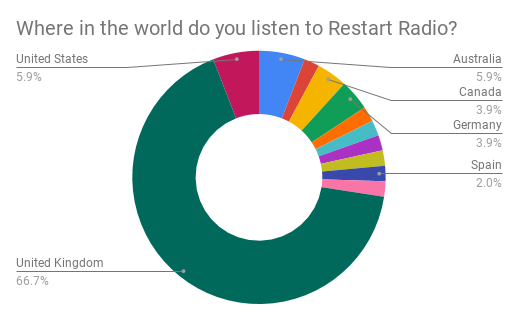 What are listeners' interests?
Listener interests (sample size: 51)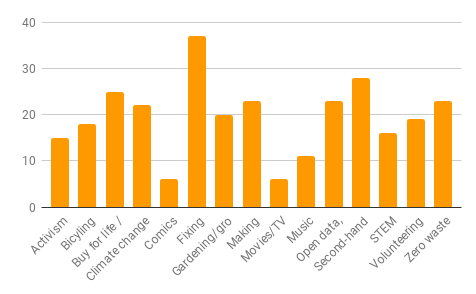 How do people listen?
The survey reinforced what we knew from our analytics, that there is a real fragmentation in terms of podcast listening channels. We will strive to continue to serve all. We also learned that there is a real spread in terms of listening habits. Some of you are fairly regular listeners, others binge, and yet others dip in occasionally when you like the subject matter.
Engagement beyond listening
We were quite encouraged by what we learned about listeners and their desire to go deeper. Because of the podcast…
5% started volunteering
2.6% learned more about fixing and got inspired to fix
74% learned more about what Restart does
We were most impressed with the interest in going deeper and participating more
> 1/3 said they would donate if asked
19% said they would contribute audio responses to prompts, for use on the show
38% said they would like full transcripts, something we've been considering and have the tools to do
What you liked (and didn't)
Sincerely thank you for the honestly. We really appreciate it, and we can take the criticism! We'll aim to fix and upgrade the show and maintain what works.
You liked
Variety of guests and topics
Informal, raw, honest and not too technical
Not too long
You said we should
Make the show a bit more punchy and structured at times – especially the live shows
Feature more repair pros and people in the wider repair ecosystem
Add transcripts and create an index
Coming soon
We will recruit another paid radio intern towards the end of 2019 to help us come back in 2020 with improvements — so watch this space! And for those of you who said you would donate if asked… how about a donation?
[Feature image by Mark A Phillips, licensed under CC BY 4.0.]